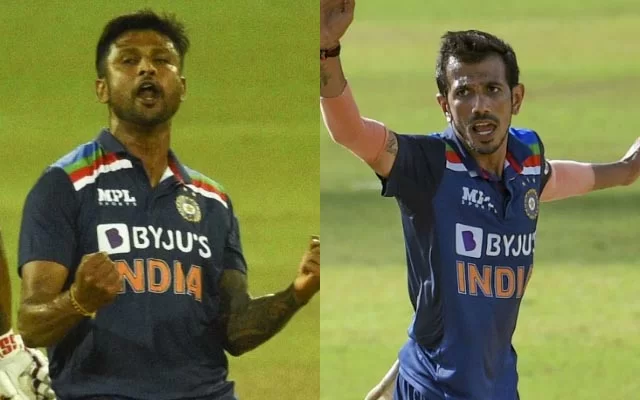 Yuzvendra Chahal and Krishnappa Gowtham tests positive for Covid-19
Yuzvendra Chahal and Krishnappa Gowtham tests positive for Covid-19
August 2, 2021  Author51bajie
COVID-19 positive tests have been found in Yuzvendra Chahal and Krishnappa Gowtham, both members of India's delegation on the Sri Lanka tour. Two of eight cricketers identified as close associates of all-rounder Krunal Pandya, who tested positive earlier this week for the first time. The 2nd T20I between India and Sri Lanka was postponed by a day due to a COVID positive case.

The three-match T20I series concluded on July 29, and the rest of the Indian team is set to return home. Krunal Pandya, on the other hand, and his other close associates will continue to remain isolated in Sri Lanka. After Krunal tested positive, he was sent to a different hotel, while the other eight players stayed in the same hotel as the rest of the Indian team but were separated from them.

Hardik Pandya, Ishan Kishan, Suryakumar Yadav, Prithvi Shaw, Manish Pandey, and Deepak Chahar are the other six players that are now in isolation. Yuzvendra Chahal and Gowtham, both leg-spinners, have tested positive and will be sent to an isolation unit.

Due to these occurrences, India was forced to play the final two T20Is with only five specialist batsmen. Sri Lanka defeated the reduced team in both matches, claiming their first T20I series victory since 2019.

Meanwhile, according to Sri Lankan official standards, a person who tests positive for the virus must isolate themselves for 10 days. They will also have to go through a new series of tests and pass them before leaving the country. Meanwhile, close contacts will be isolated for seven days, and follow-up tests will be required to clear them.

Prithvi Shaw and Surya's chances of visiting England are undoubtedly harmed as a result of these happenings. The two included injury replacements in the Indian Test team ahead of the August 4 Test series against England.