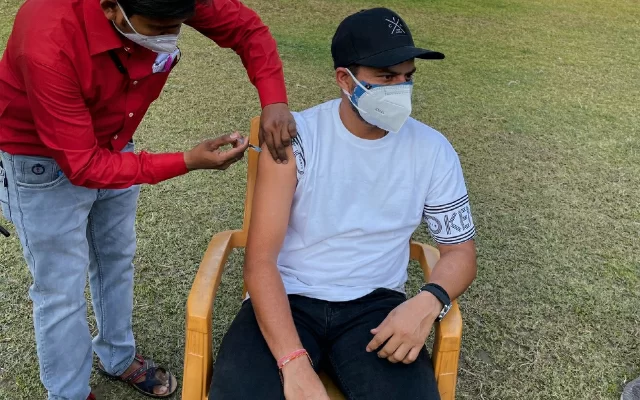 Kuldeep Yadav had scheduled a hospital COVID-19 vaccination, but he received his first dose of vaccine in a guest house
Kuldeep Yadav had scheduled a hospital COVID-19 vaccination, but he received his first dose of vaccine in a guest house
May 21, 2021  Author51bajie
Kuldeep Yadav, a member of the Indian cricket team, has reversed his position on the COVID-19 vaccine. The Kanpur district administration has requested an investigation because Yadav initially scheduled a hospital appointment but received his first dose of vaccine at a guest house. On Saturday, the Chinaman bowler got a dose of the COVID-19 vaccine.

He posted the photo to his social media account, urging everyone to get the vaccine because India is currently fighting to remain strong in the face of the second wave, which has already claimed many lives.

According to India Today, the spinner received the vaccine on the lawn of the Kanpur Nagar Nigam guest house, rather than Jageshwar Hospital in Govind Nagar. The problem with Yadav is that he has not correctly informed the Kanpur administration about his vaccine not being administered at the hospital as planned.

The officials were taken aback when the photo went viral and had no idea what to do. ADM Atul Kumar has spoken with Kanpur District Magistrate Alok Tiwari about the incident, and an investigation will be conducted soon.

Yadav has dropped off the selectors' radar after being left out of the squad for the upcoming tour of England. The selection committee is also debating if he should be included in the July tour of Sri Lanka without the key players in England. In reality, the 26-year-old was denied opportunities while playing for the Kolkata Knight Riders in the Indian Premier League's 14th season.

Yadav is looking to rebuild his career after underwhelming results in the national team and the IPL over the last two years. He is willing to wait for his chance. In a recent interview, Yadav also discussed how he misses MS Dhoni's leadership behind the stumps.